WordPress Deals Black Friday to Cyber Monday 2017
Looking for the best WordPress deals for Black Friday and Cyber Monday?
It's a perfect time of year to update or create new websites. Discounts abound on themes and plugins. Great deals can be had from only $10. Here's a list of the Etoile plugins and themes on sale until November 27th, 2017.
Already a customer? Our new premium Live Chat service is also available at a discount for a limited time.
---

This WordPress Deal is Valid: Black Friday to Cyber Monday 2017
Create, organize and publicize your Frequently Asked Questions in no time through your WordPress Admin Panel with the incredibly easy-to-use, responsive Ultimate FAQ plugin. You can use either the accordion FAQ style, to display one answer on click, or the list FAQ style, to have answers displayed by default.
★★★★★ "With its search (live ajax), tagging, categorizing, and other UI customization features, this FAQ plugin is definitely one of the best." – J. Barrio
---
This WordPress Deal is Valid: Black Friday to Cyber Monday 2017
Designed to display your products in a sleek and easy to customize catalog format. Great WooCommerce integration features.
Choose between three default responsive layouts for your product catalog, or use the Custom CSS features or any of the hundreds of product catalog styling options. Make your product catalog easy to browse, sort and update with product catalog categories, sub-categories, tags and custom fields.
Perfect to create a product catalog for your store, art gallery, restaurant and more!
★★★★★  "The free plugin is great but the paid support is so worth the money. Outstanding!" – Martin Hunt
---
This WordPress Deal is Valid: Black Friday to Cyber Monday 2017
A modern, responsive WordPress theme for sites that manage orders, shipping and statuses of any kind.
Integrates directly with the Status Tracking plugin to create the ultimate solution for sites that manage orders, shipping or anything with statuses. Add an order tracking search field directly on your homepage to allow your visitors to see the latest status about their order as well as a search field in your header, which can be set to track orders, search WooCommerce or search your site.
With our intuitive homepage options, built straight into the WordPress customizer, you can choose which elements you'd like to show on your homepage and also drag and drop the different elements into the exact order that makes the most sense for your site.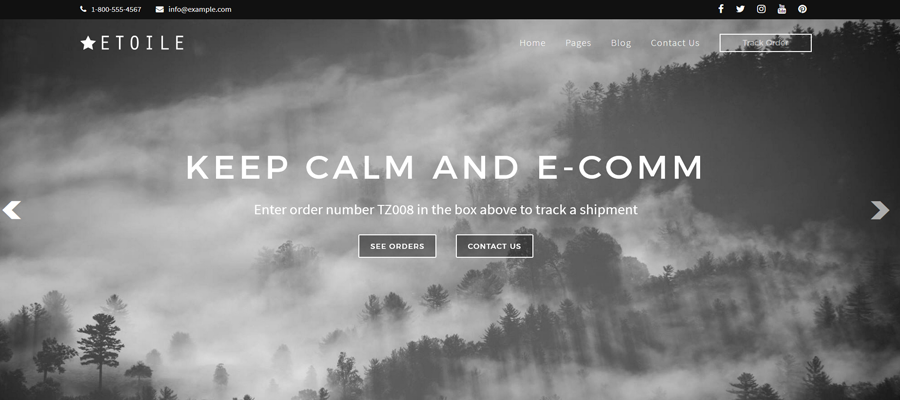 ---
This WordPress Deal is Valid: Black Friday to Cyber Monday 2017
A complete reviews solution. An easy to use review plugin that lets visitors submit reviews for different products, events or anything else. Ultimate Reviews is easy to set up and includes two smart product review shortcodes, one that displays your reviews and one that displays a review form that your visitors can use to submit reviews.
---
This WordPress Deal is Valid: Black Friday to Cyber Monday 2017
Order and status tracking software that allows you to quickly and easily manage the status of your orders, projects, shipments, or any other item, by posting order tracking updates about the status, or tickets that can be viewed through the front end of your WordPress site, for easy order management. All this is done via a series of easy-to-use order shortcodes.
Integrates directly with the Keep Calm and E-comm Theme.
---
Deal: Save 50% on the

Ultimate Slider

For WordPress
This WordPress Deal is Valid: Black Friday to Cyber Monday 2017
Ultimate Slider is an easy-to-use slider plugin that lets you add a clean, modern, responsive slider to any page on your WordPress site using a simple slider shortcode. It includes multiple different slide transition effects to make your slider unique. There are also various other slider customization options, including slider autoplay and the ability to set the slider delay and slide interval times. There is even a custom CSS input that lets you further modify the slider styling, so you can get it looking and working exactly as you need.
Integrates directly with the Ultimate Showcase Theme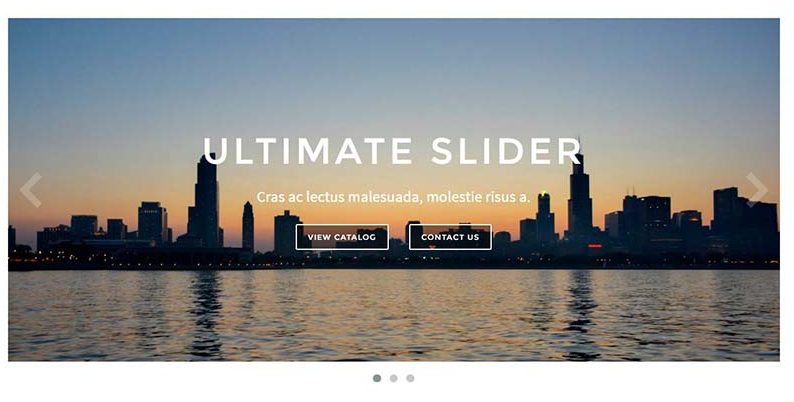 ---
This WordPress Deal is Valid: Black Friday to Cyber Monday 2017
The Ultimate Showcase theme provides a sleek, modern and responsive layout that allows you to display your best work in a clear and attractive manner. This theme is designed, from the ground up, to integrate seamlessly with the Ultimate Product Catalog plugin and with WooCommerce. It's easy to set up and offers you the perfect venue to showcase your products and/or portfolio. It includes a feature-rich slider that pulls slides either from a dedicated custom post type, straight from your product catalog or from WooCommerce, multiple page layouts, testimonials, multiple theme options and a flexible homepage layout. Specific product-related elements include a featured area on the homepage in which you can showcase Ultimate Product Catalog or WooCommerce products, as well as a built-in search in the site header/menu that you can set to search either products in the Ultimate Product Catalog or products in WooCommerce. Demo available at http://www.etoilewebdesign.com/ultimate-showcase/.
Call to action box goes here