Swamped by Customer Tweets, PM's and Email? Time Saving Tips to Keep You Sane and Your Clients Happy
Living in the age of instant communication has created a bit of a nightmare for small businesses low on man-power and overwhelmed by customer service communication. Clients often expect immediate responses to inquiries, especially with so many avenues to reach you (and can chastise you publicly if you don't respond promptly).
So how to you run the day-to-day of your business and still deal with tweets, Facebook messages, email and calls? Here's a few tips to save you time and help customers get the answers they need.\
Identify your #1 time-sucking question and pin it everywhere.
Do you feel like you're responding to the same questions over and over again:
Where's my package?
My activation code?
Do you ship internationally?
What's your product made with?
If you are plagued with repeat questions, that means the answers are not readily available on your website and social media channels.
Pin the answer on your Facebook page.
Facebook allows you to pin a post to the top of your feed permanently. Just click the drop-down list in the top right corner of the post and select "pin to top". The post will stay put and visible for anyone who comes searching for the answer.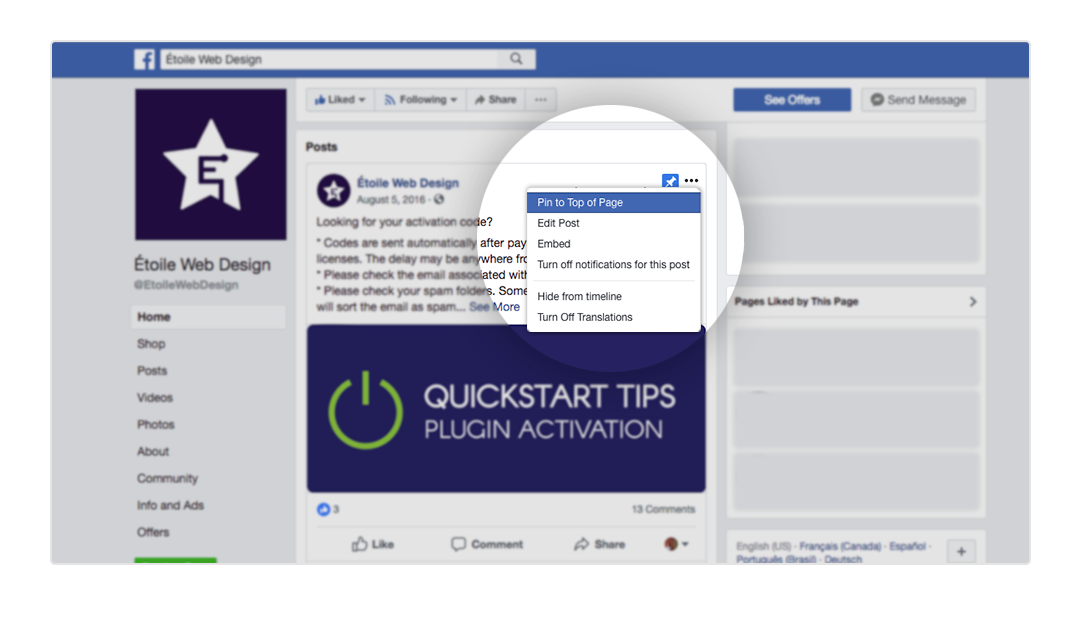 Twitter also lets you pin posts.
If you tend to have more client interaction on twitter, pin a post here as well.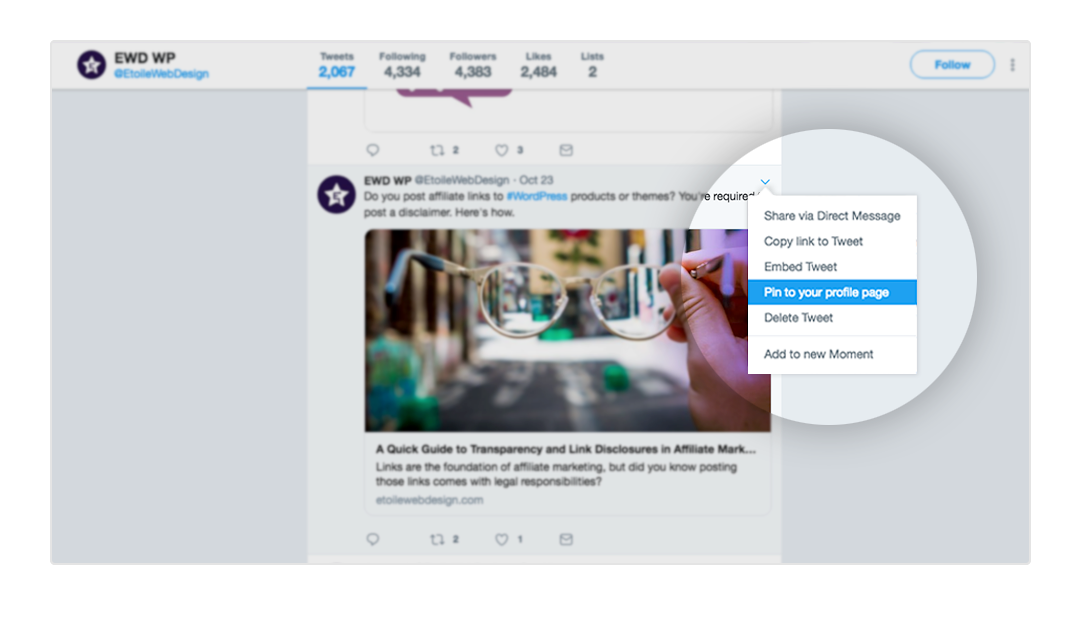 ---
Yes, make a big, visible link on your site.
Don't think of it as an ugly button advertising a weakness, but a great feat of customer service. Identifying an issue in your process and solving it immediately is only a win-win for you and your customers. Take the opportunity to head off customer stress and show a bit of personality, warmth and humor in your response. Here's a great example from The Blissful Dog for orders gone wrong: "All mistakes are blamed on the husband. Period. Contact Kathy and we will figure it out (even if it IS Steve's fault)" :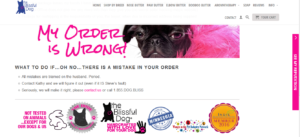 Use your FAQ's more effectively.
If your customers can't find answers to their questions fast it will result in tweets and messages that likely, could be avoided with a well-organized FAQ.
Ditch the alphabetical order and list your top questions first.
Display FAQ's right on a product page if you can
Make your FAQ's searchable and considering using autocomplete to help customers find their answers quickly (look for plugins that can help with this)
Let customers submit their own questions and if you have a knowledgeable client base, allow customers to post answers to questions from their experience with your products
Change up your FAQ's for holiday periods or seasonal products that tend to generate specific questions
---
30,000+ Installations
---
---
Direct all questions to one place that's easy to monitor.
With so many channels to check, many small businesses owners find it tough to keep-up on each avenue of contact. Make life easy for yourself and set-up one place to view everything. There are several ways to accomplish this. For many, old-fashion email is still the way to go.
Many social media apps and blogs allow you to push notifications to your email. While you may not be able to answer without logging-in to those services, you will be able to help prioritize your responses saying you some time.
Another option is using a social media dashboard. That's a program or website that allows you to manage many of your profiles all in one place. Hootsuite and Fan Page Robot are both easy to use, but be aware that certain features will require you to pay.
Remember to be responsive and clear about where and when you answer. 
It's now possible to have clients from around the world contacting you at all hours. They don't always realize that your team is unavailable.  Make sure to use tools on your website, Facebook and email

system to let clients know you're away and when you'll be able to answer questions. An informed customer is a happy customer, someone languishing with an unread tweet or post for three days isn't. If you generally require 24-48 hours to respond, make sure you say that in as many places as possible.
If you're still struggling to meet all of your communication demands try to delegate. Make sure one person is responsible for staying on top of client communication like blogs or other areas that may fall through the cracks.
With just a little organization, and the right tools, your great customer service can be something that your clients rave about instead of a chore that keeps you up tweeting at night.
---
Check Out These Great Plugins to Save You Time!
This post is brought to you by the team behind some great WordPress plugins that will make your work-life and website better including the Ultimate FAQ Plugin and Status Tracking Plugin. Download one of our WordPress plugins and connect with us @etoilewebdesign . Review one of our plugins and you could win your premium plugin purchase! Just let us know you posted via twitter, Facebook or email. We draw one winner every month.
---
6,000+ Installations
---
10,000+ Installations
Call to action box goes here