Why 93% of Consumers Say They Shop With Small Online Retailers
This is an amazing time to be an entrepreneur.  E-commerce has allowed businesses to reach consumers far outside of what brick and mortar stores could ever achieve. Lower over-head, quick and easy customizable websites and consumers embracing a world of choice at their fingertips, have created the perfect climate for smart businesses to thrive.
In a comScore poll of over 5000 online shoppers in the U.S. nearly all – 93%, said they shopped with small online retailers.
Traditional stores not cutting it
Almost half of those polled said they shopped at small online stores because they just couldn't find what they wanted from traditional retailers. This is part of the reason why niche businesses that do one thing and do it well can succeed.
Where did you get that?
61% of shoppers also said they shopped at small retailers because they offer unique products.
The powerhouse marketplace Esty took this principle to the bank. This online supermall for funky, arsty, crafty-type wares started out in a Brooklyn, New York apartment in 2005 and now boasts 24 million active buyers and more than 1 billion dollars in transactions annually.
That is not your grandma's craft-fair. If you're not familiar with Esty, it brings together creative types with shoppers looking for things they can't find anywhere else.
Why crowdfunding is now a thing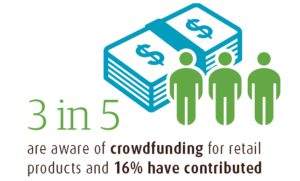 Probably the most interesting reason given for choosing small retailers is that shoppers said they wanted to support the small business community. That's a key reason why retailers have to really embrace the idea of connecting with their customers on a personal level. If they like you, they'll want to support you and in the case of the crowdfunding boom, actually want to be a part of your dream and your success.
The battlefront that is Free Shipping
While the news that shoppers have the warm and fuzzies for small business may be positive, their claws still come out over one issue that's a killer – free shipping.
77% of people polled said that free shipping was the most important option at checkout, and more than half said they topped-up their cart to quality for free shipping minimums.
Free shipping is a tough call for small businesses, as large retailers can more easily absorb shipping costs. But if you do things right, and take into account the three keys to a successful niche business as pointed out by the customers themselves, even you can get them to click Add to Cart.
Reasons for shopping with small retailers:
Couldn't find it at traditional stores
Wanted unique stuff
Feels good to support small business
---
---
You need WordPress plugins for your awesome small business.
We're a small, but mighty business too!
This post is brought to you by the team behind some great WordPress plugins that will make your work-life and website better. We hate Montreal snow in April, but love chatting with you on our social media channels.
Download one of our WordPress plugins and connect with us @etoilewebdesign. Tweet us and we'll be sure to follow-back, check out your business and say hi.
---
10,000+ Installations
---
30,000+ Installations
Call to action box goes here