WordPress beginner? How to build a business website or blog in 24 hours.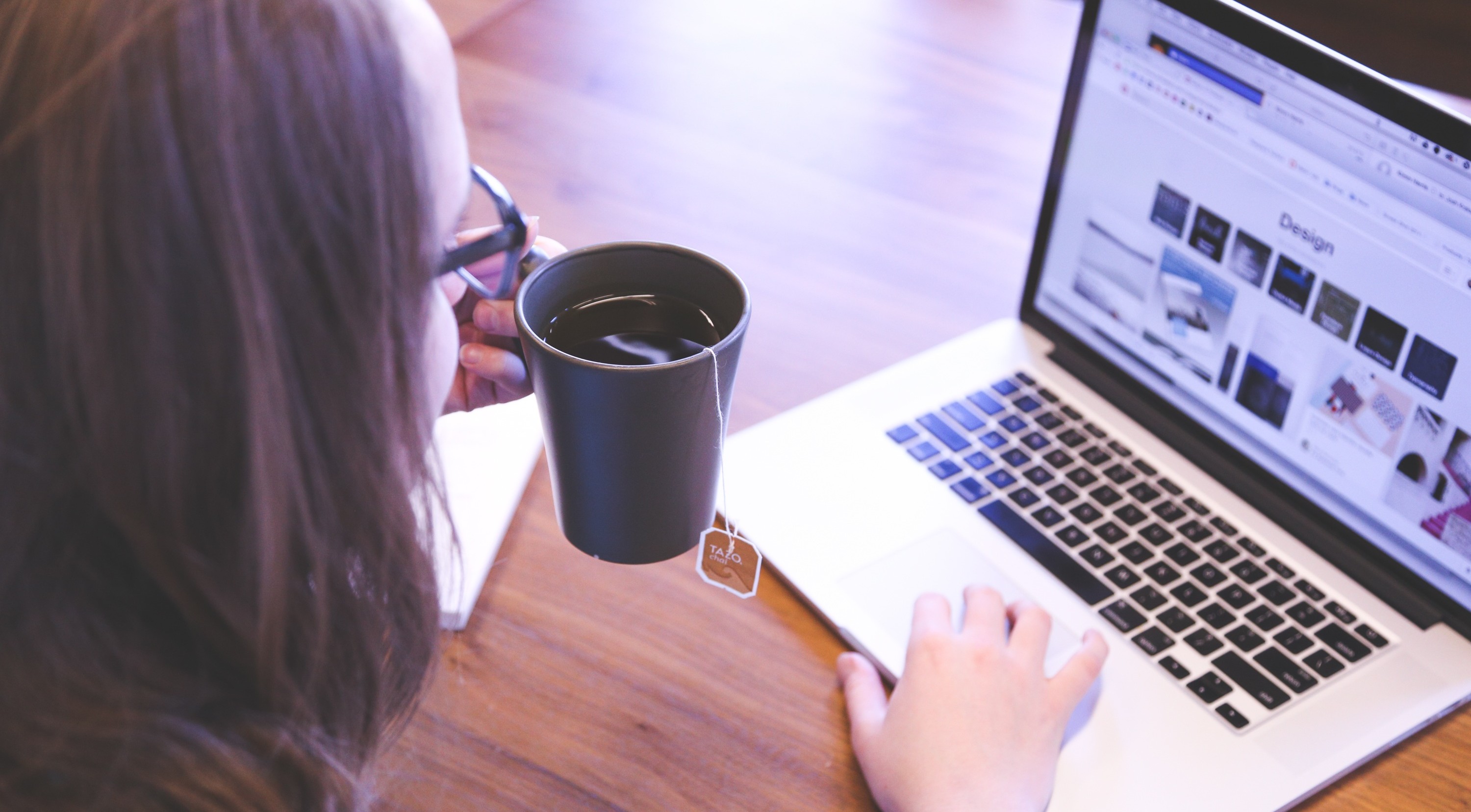 If you are considering a WordPress website project you'll be in good company. Over 70 million websites use WordPress including Sony, the New York Times, and Best Buy.
WordPress is a content management system. Think of it as the backstage of your website. The public sees the face of the site and you have a special set of pages that organize what they see. WordPress is remarkably easy to use once you understand the basic structure.
WordPress.org vs WordPress.com
Org vs Com is probably the most common mistake WordPress beginners make. They sign up and then wonder why they don't have access to the thousands of plugins and templates they've heard so much about. The big difference is that a site on WordPress.com is hosted there, meaning all your information and "technical bits" are stored by WordPress. They sell it as the easiest option, however unless you want to pay for every extra, you will not have access to the full range of amazing plugins and templates that can make your site what you imagine it to be. For that, you need to be "self-hosted" – this is much easier than it sounds and can be done in minutes.
Using a hosting company
One great hosting company for WordPress beginners is siteground.com. There are others such as Blue Host or Go Daddy, however for price, features, support and ease of use, Site Ground is among the best for novices. You simply pick the url you'd like, the features you need and it installs WordPress in a matter of minutes. It can also transfer an existing WordPress site. The whole process is painless and can cost as little as $50.
What happens next?
Whatever hosting company you choose, you'll have a place to log in and see your url. Generally from there you will go to the WordPress admin panel. This is your site's "backstage" and looks like this: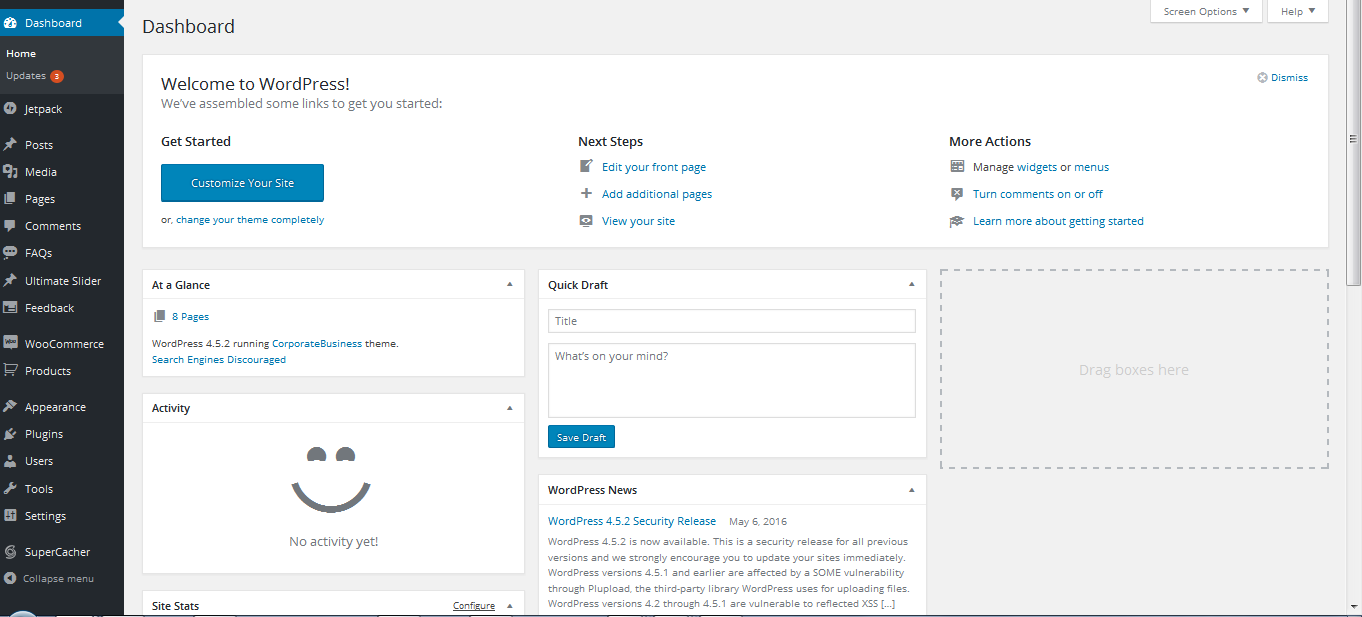 Choose your theme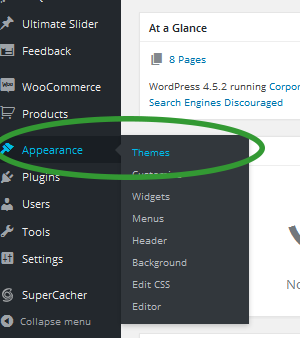 Your "theme" is simply what your site will look like, what palette of colors it will have, and what features. The easiest option for a beginner is to try and find a theme that is similar to your business. Themes built for restaurants will have handy features like a place for customers to make reservations and beautiful online menu layouts. If your business is visual, try a layout that showcases great photos of your work or products. If you want to get your site up quickly, look at ten and pick one that appeals to you most, you can always change your mind later – another great benefit of WordPress. Just click the add new button at the top to see a wide selections of themes.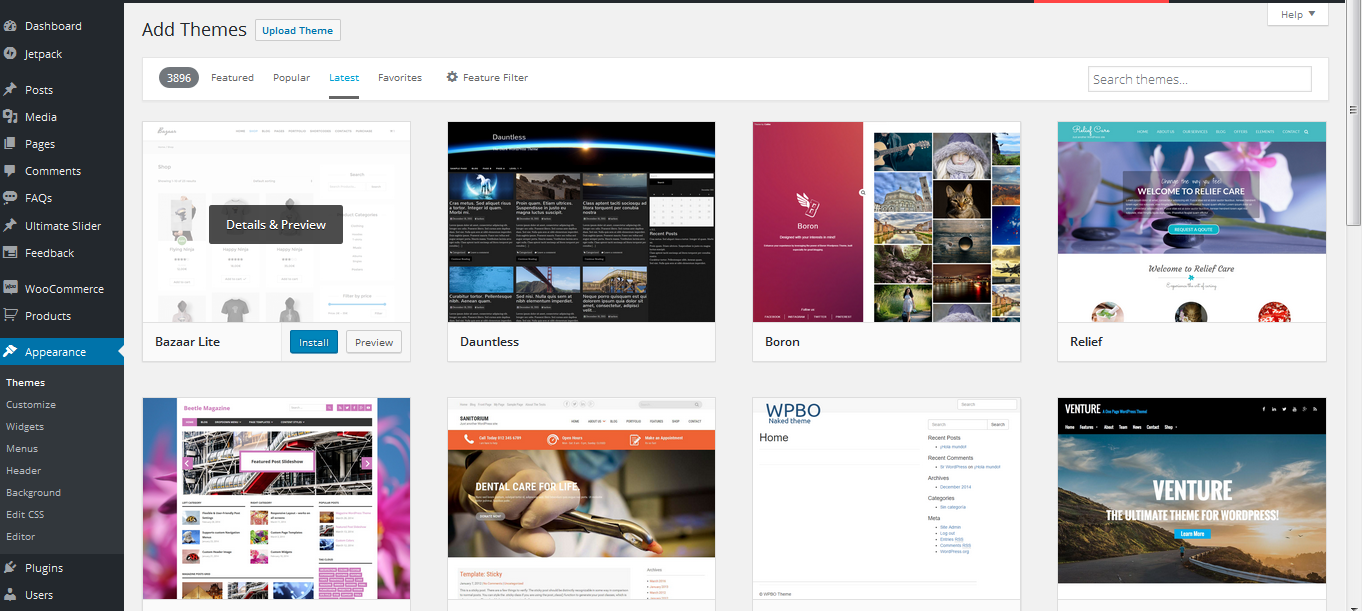 Customizing
After picking your theme you'll want to customize it by replace the dummy logos, text and photos with your own. Many themes make this very easy. You click on Contact Info for example and just type in your information, click on Logo and upload your image and so on.
Pages vs. Posts
The simple gist of pages vs posts is that pages are for content you need to have displayed all the time (about us, your products, testimonials etc.) and posts are for blog posts.
To create a new Page,  select the Pages > Add New option in your dashboard menu to begin writing a new Page.
Organizing your Pages
You can then organize your pages into categories and subcategories. For example if you s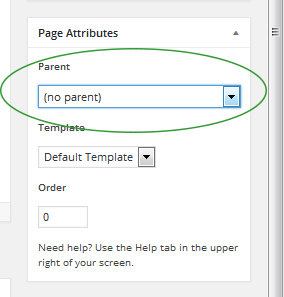 ell clothing you could start by creating a page called Tops. Add a general photo and description. Then create sub-pages called t-shirts, dress shirts and sweaters. These will be your "child" pages, while Tops will be your "parent page". To have your sub-category pages appear under your Tops page, go to the right where it says Page Attributes and click on the drop down menu under Parent. Select Tops and your t-shirts page will become a sub-category of Tops. Your template will usually have a section called menus. To add a page to your main site menu, you can usually click a drop-down list and add any page you've created to the menu.
Plugins
To organize your pages into a catalog of products you can use a plugin like The Ultimate Product Catalog Plugin, or others that can help you manage your information and how it appears. Plugins are like accessories for your site and can quickly add impressive features like an appointment scheduling system, an events calendar or a complete shopping cart system. Many of these are completely free for the basic version, but have optional premium features that you pay for. Most upgrades are in the $15 to $50 range and can be well worth the money for what you get.
Other Resources
Here's a great list of great resources to get you started:
http://www.wpbeginner.com/ is a site packed with tutorials on everything from the most basic steps to more advanced customizing.
Find free high quality photos at https://pixabay.com/  ,  https://unsplash.com/  http://images.superfamous.com/ (great for backgrounds)
The WordPress plugin directory: https://wordpress.org/plugins/
You can do it!
It may seem overwhelming, but there's a reason why WordPress is the most used content manager on the web. It was built so regular people can make and manage their own sites. Don't hesitate to become part of the WordPress community on social media, many of the questions you have can be answered by someone in the know on twitter or in a forum.
Happy customizing and welcome to the WordPress family.
Follow us on twitter for more WordPress tips.
Call to action box goes here