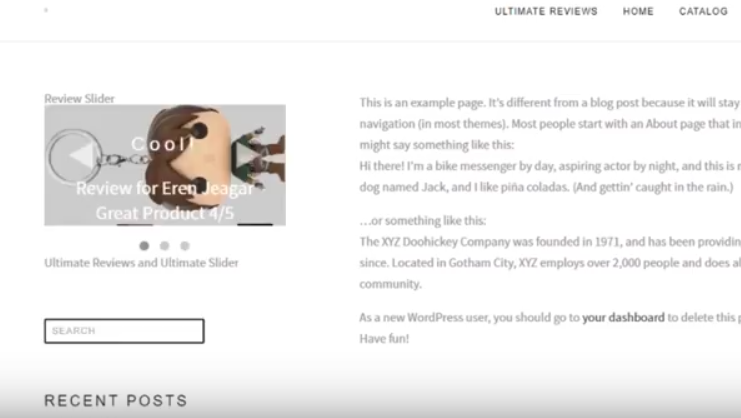 Product reviews are the most important element you can use to gain trust and drive sales on your website.
Most consumers read 4-6 reviews before they'll trust your business
Excellent ratings prompt customers to spend 31% more money
72% of consumers will take action only after reading a positive review
So why not turn these important reviews into an interactive element that keeps shoppers engaged and on your site? In this video tutorial we'll walk you through creating a slider that will display your reviews. You'll be able to add this widget to any of the widget areas on your theme such as a blog post sidebar or page sidebar. First, you'll need to install the following free WordPress plugins and enter in some reviews to display. For more tutorials visit the Etoile YouTube channel.
More About the Ultimate Slider Plugin
Ultimate Slider lets you add a clean, modern, responsive slider to any page on your WordPress site using a simple slider shortcode. It's easy to use and offers customization options, including slider auto-play and the ability to set the slider delay and slide interval times. Add whatever you want to your slider including YouTube videos, reviews or products.
More About the Ultimate Reviews Plugin
This reviews plugin is easy to use and allows visitors to submit reviews for different products, events etc. Simply insert the shortcode into any page to display your reviews. Many options are included that let you adjust review ratings and scoring, require login and/or email confirmation, add review categories and change how reviews are displayed. WooCommerce Integration Ultimate Reviews is now fully integrated with WooCommerce. Available in the premium version, you can replace the default WooCommerce product reviews tab as well as the ratings area on your WooCommerce product page with the reviews and ratings from this plugin. This will allow you to better manage your reviews, review WooCommerce products using Ultimate Reviews, and offer your visitors more customized reviews and ratings in your WooCommerce shop. Go to: Reviews Demo Go to: WooCommerce Reviews Demo